A Photographic History of Daifuku

Daifuku Supplied the Conveyors for the First Factory in Japan to Exclusively Manufacture Passenger Cars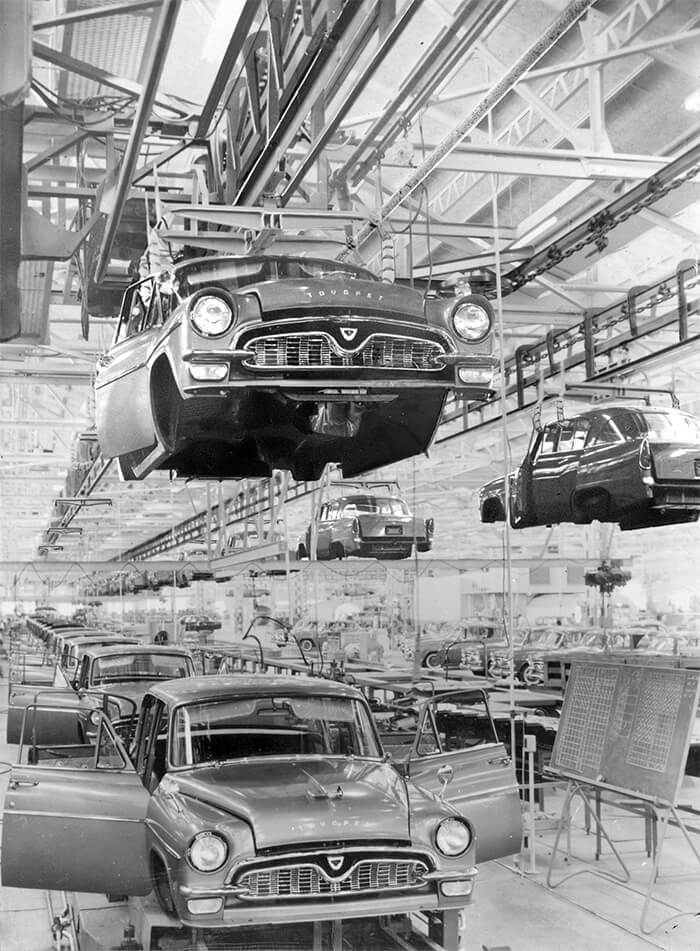 In 1959, Daifuku supplied a Webb conveyor system to the Toyota Motor Co., Ltd. (hereafter referred to as Toyota) Motomachi Plant in Toyota, Aichi Prefecture. Motomachi Plant was a new factory built exclusively for the manufacturing of passenger cars. Toyota had set a monthly production target of 10,000 vehicles for employees working in two shifts, including a monthly target of 3,000 Toyoaces and 5,000 Crowns. It was big news since, once completed, it would be Japan's first modern automobile factory. Construction began in 1957 and the factory was scheduled to come into operation at 8:00 on August 8, 1959. Daifuku employees put their all into the project.
A trial run was held on August 7, and there was a problem when part of the conveyor system did not move. However, Daifuku staff worked on it through the night and the rollout took place the following day as scheduled. Many companies were involved in the new factory, but only the section constructed by Daifuku was ready in time for the rollout ceremony.
Thus Daifuku was successful in supplying the conveyor system for Japan's first ever factory to exclusively manufacture passenger cars. This achievement was a huge confidence booster for Daifuku, and earned the company an even greater level of trust from the industry.
*

This article is based on the content of "Hini Arata Nari: 50 Years of Daifuku History."