Daifuku acquires software companies to strengthen its digital solutions for airport business
Diversifying business with the addition of smart security solutions and information management systems
Osaka, Japan – Daifuku Co., Ltd. announced today it is to acquire Netherlands-based Scarabee Aviation Group B.V. and Australia-based Intersystems (Asia Pacific) Pty Limited.
Scarabee provides a range of airport solutions to many of the world's leading airports and airlines. Recognized for their human centered design, convenience and performance, Scarabee's state-of-the-art "Smart Security Lanes" have supported airports transforming their security process.
From design through to after-sales service, Intersystems provides airport information management systems, including its world-leading flight information display (FIDs) software. Headquartered in Australia, it also maintains sites in the U.S. and China.
In recent years, the economic development of emerging countries has brought a surge in movement of people. Global passenger numbers reached 4 billion in 2017 and are anticipated to rise to 8.2 billion by 2037 according to the International Air Transport Association. Against this backdrop, Daifuku expects increased demand for the upgrade and expansion of airport facilities, and drive towards "smart airports" that offer greater convenience. Per its medium-term business plan, Value Innovation 2020, Daifuku aims to establish its Airport Technologies business as its fourth core business.
The acquisition of both companies enables the Daifuku Group to enter the airport security checkpoint and information management fields, both of which hold growth potential. Along with diversifying Daifuku's business unit for airport systems and complementing its existing hardware, the acquisitions will strengthen its global competitiveness as it generates synergy between its group companies based in North America, Europe, Asia and Oceania.
As the world's leading system supplier for airports, Daifuku continues to leverage its technology and expertise to provide an array of automated systems that contribute to airport safety, efficiency and accuracy.
Overview of Scarabee Aviation Group B.V.
Location
Amsterdam, the Netherlands
Representative
Boudewijn Wellink (CEO)
Established
1988
Business
Solutions for airports:
- Smart Security Lanes
- Self-service baggage drop-off systems
- Life cycle services
- Consulting
- System integration
Employees
151 (as of April 30, 2019)
Primary locations
The Netherlands (headquarters), Japan, U.K. & Germany
URL
https://www.scarabee.com/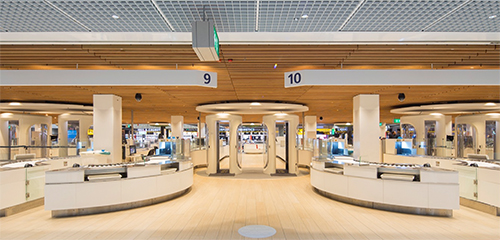 Overview of Intersystems (Asia Pacific) Pty Limited
Location
Brisbane, Australia
Representative
Bruce Allen (CEO & Management Director)
Established
1970
Business
Design, develop and install airport information management systems:
- Resource management systems
- Airport information displays
- Big data storage and analysis systems
Employees
19 (as of March 31, 2019)
Primary locations
Australia (headquarters), U.S., China
URL
http://www.inter-systems.com/