Keep business operations environmentally friendly
Relationship to SDGs
Goal
Target
No.
Initiative
6. Clean water and sanitation
6.3
By 2030, improve water quality by reducing pollution, eliminating dumping and minimizing release of hazardous chemicals and materials, halving the proportion of untreated wastewater and substantially increasing recycling and safe reuse globally
7. Affordable and clean energy
7.2
By 2030, increase substantially the share of renewable energy in the global energy mix
7.3
By 2030, double the global rate of improvement in energy efficiency
12. Responsible Consumption And Production
12.2
By 2030, achieve the sustainable management and efficient use of natural resources
13. Climate action
13.2
Integrate climate change measures into national policies, strategies and planning
13.3
Improve education, awareness-raising and human and institutional capacity on climate change mitigation, adaptation, impact reduction and early warning

KPI
Initiative
Target
FY2021
FY2022
FY2023
Daifuku's CO2 total emissions reduction rate (over 2018)
2.5% reduction
5.0% reduction
7.5% reduction
Participate rate in CO2 emissions reduction programs*6 by supply chain
32%
34%
36%
Resource recycling at global production sites
Survey overseas sites; establish goals
-
-
*6:

Daifuku's own framework on efforts (sharing of goals and supporting measures to reduce emissions etc.) to reduce CO2 emissions at suppliers
Promotion Framework
We are promoting the following regime to implement environmentally-conscious business.
[Target issues] Reduction of CO2 emissions, resource cycles, supply-chain CO2 reduction program etc.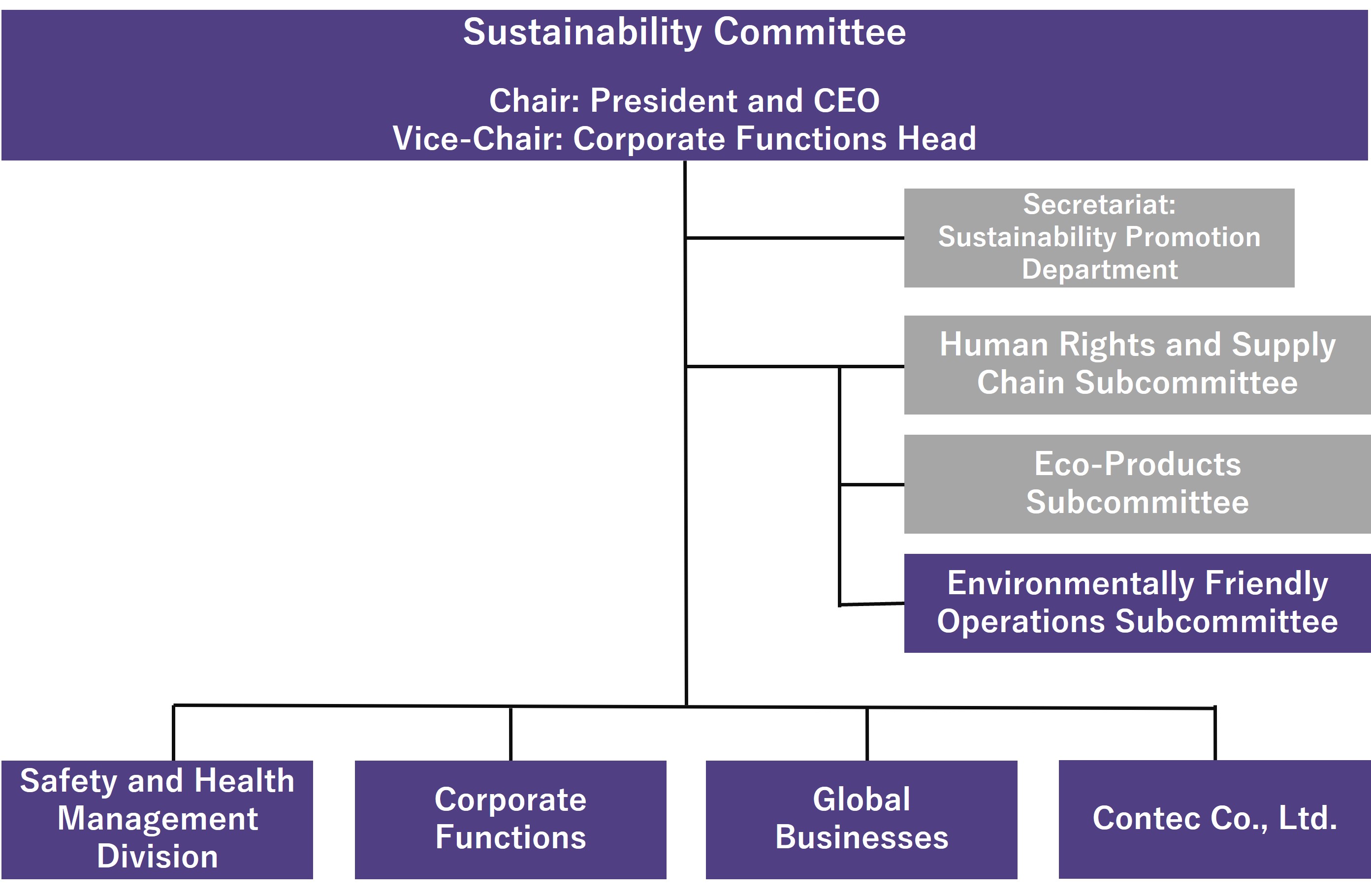 Action
Climate change Efforts
Our CO2 reduction efforts range from large-scale operational improvements to individual employees reducing their commute and travel when on company business. Daily data on the use of electricity and heat energy, the major contributors of CO2 emissions, are constantly monitored for improvement.
A photovoltaic system installed at Hini Arata Kan demo center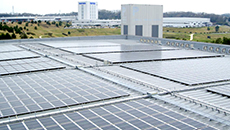 In March 2010, Daifuku installed solar panels at the Hini Arata Kan material handling and logistics exhibition center located in the Shiga Works site. In fiscal 2020, the system generated about 210,000 kWh of power, which reduced CO2 emissions by 70 tons.
Daifuku Shiga Mega Solar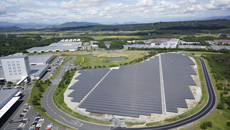 In November 2013, we installed the photovoltaic system, Daifuku Shiga Mega Solar, at the Shiga Works. Comprising 17,752 panels, the system has a maximum power generation capacity of 4,438 kW (largest in Shiga Prefecture) and an annual output (power sold to electric power providers) of approx. 4,300,000 kWh (equivalent to the annual power consumption of 1,000 general households).
Sharing transportation resources
We are now building a partnership with suppliers for parts and materials and set up a pickup and delivery service in order to reduce costs and properly control delivery dates. Although suppliers had transported cargo with their own trucks, we are currently making rounds with one truck per region through concentrated management and throughput control, and are striving to consolidate and streamline trips to logistics sites. We are contributing to the prevention of global warming by reducing CO2 emissions throughout the entire supply chain as well as reducing each supplier's logistics costs.
*

Milk run method:
One truck makes the rounds to each supplier and picks up cargo that had previously been delivered by separate trucks. This method improves load efficiency and reduces fuel consumption and CO2 emissions.
Modal shift*
Daifuku typically uses trucks to transport products to customer sites, but we are in the process of shifting to more environmentally-friendly methods of railway and marine transportation. Our aim is to improve the quality of logistics operations by coordinating delivery schedules and managing costs, thereby reducing CO2 emissions as much as possible. In fiscal 2020, we were able to cut CO2 emissions by 265 tons through the modal shift of transportation methods.
*

Modal shift:
Choosing modes of transportation with lower environmental impact, such as railroads and ships, to transport cargo. By switching from trucks to ships and trains, it is possible to transport cargo with fewer CO2 emissions and less impact on the environment.
Carbon offsetting*
For our material handling and logistics exhibition center, Hini Arata Kan, we implemented a 100% carbon offset of total annual CO2 emissions (204 tons - CO2: fiscal 2020) calculated from the electric power and liquefied petroleum gas (LPG) used in running the center, and the lightweight oil (biodiesel fuel) used for shuttle buses, as well as 1.5kg CO2 per visitor.
*

What is carbon offsetting?
Carbon offsetting refers to the act of recognizing one's own greenhouse gas emissions, making efforts to reduce the emissions, and of counterbalancing, in whole or in part, the greenhouse gas emissions that cannot be reduced by purchasing credits or through other means.
Resource Saving
Ensuring appropriate waste disposal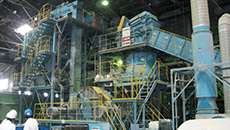 Waste generated by business activities is processed appropriately in accordance with laws and regulations. Even when waste processing is outsourced to a subcontractor, meaning that the outsourcing operator takes responsibility for proper processing, Daifuku carefully chooses the best outsourcing companies and visits their facilities annually to ensure that waste is handled properly.
Pollutant Reduction
Preventing Water Pollution
The Shiga Works, which accounts for approximately 80% of Daifuku's water consumption in Japan, maintains a 24-hour continuous monitoring system with three wastewater treatment facilities that ensure water quality on par with agricultural water by thoroughly complying with drainage standards established by the Shiga Prefecture Ordinance and Pollution Control Agreement with Hino Town. In addition, we invite neighboring residents and provide opportunities to visit our wastewater treatment facilities and see our thorough water quality management systems, which facilitates good relationships with stakeholders.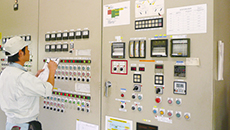 We recognize that water pollution is an important issue that broadly affects soil, agricultural produce, living environments, and more. We not only comply with laws and regulations, but also make meticulous efforts to manage and reduce waste water.
Recycling sludge into cement materials
At the Shiga Works' wastewater treatment facility, it is necessary to treat the sludge produced to maintain stable water treatment. The dewatered sludge withdrawn from the facility is treated using a dryer and is turned into dried sludge with 20% water content. This has led to a large reduction in excess sludge as well as a reduction in waste treatment cost. Furthermore, dried sludge is put to good use as a raw material for cement.
Green Procurement
As a global enterprise, we believe that our mission is to make environmentally friendly products. Under the motto, "We will not buy, use, or sell any hazardous materials," we formulated our Green Procurement Guidelines in 2005. Following the guidelines, we prioritize the purchase of materials and products that are resource saving, energy saving and reusable.
Compliance with European harmful substance regulations
The entire Daifuku Group focuses on the European REACH regulations*, and goes to great lengths to visualize and remove any harmful chemicals in its products. The Company continues to offer environmentally friendly products through implementation of Green Procurement Guidelines by looking at its entire supply chain.
*

REACH (Registration, Evaluation, Authorization, and Restriction of Chemicals) Regulations:
Companies must register and evaluate the safety of chemical substances contained in the products they manufacture and sell in Europe.
Others
Local production for local consumption at cafeterias
Since August 2014, a menu using local ingredients is provided every week at the three cafeterias in the Shiga Works. Plenty of variety is provided, such as the renowned locally produced Hinona turnips and highly nutritious and richly flavored eggs from Eigen-ji. This initiative will continue on as an activity in reducing food mileage, to reduce the amount of CO2 emissions that comes from transport.