Yuna Nishimura and Daifuku
Hini Arata: The key to growth
In June of last year, Daifuku sponsored the professional golfer, Yuna Nishimura. In the 2020-2021 season, Ms. Nishimura won four tournaments including one major, and is considered a centerpiece of the Platinum Generation of golf athletes, a title for those born around the year 2000. In December, at a sponsorship event at Daifuku's Shiga Works, President and CEO of Daifuku, Hiroshi Geshiro, had a one-on-one conversation with Ms. Nishimura wherein she discussed the basis of her strength as a player as well as her aspirations for the 2021-2022 season.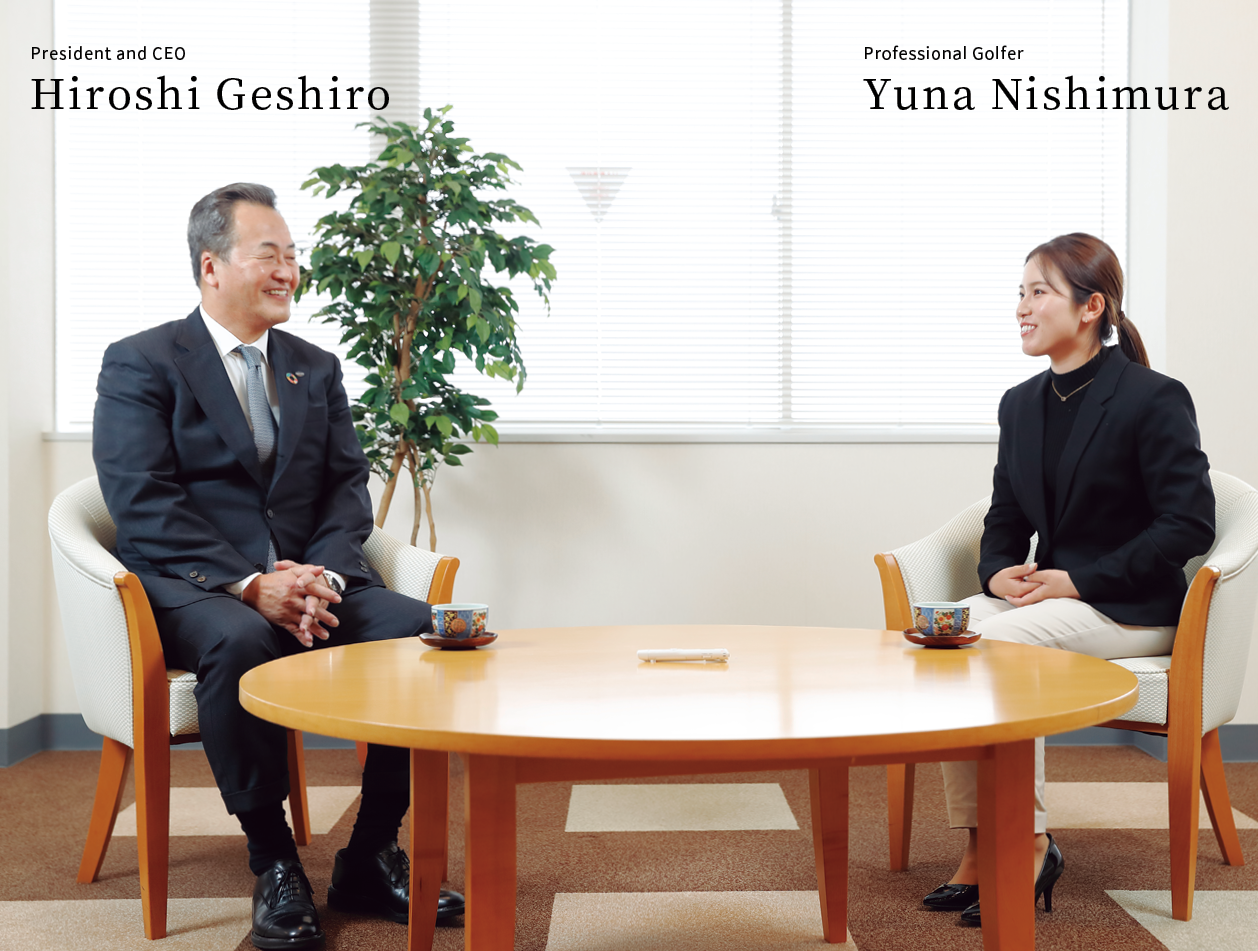 President Geshiro:Thank you for coming here to Shiga Works today. After touring the factory and Hini Arata Kan, and talking with some of our employees during the event, what do you think of the Daifuku Group?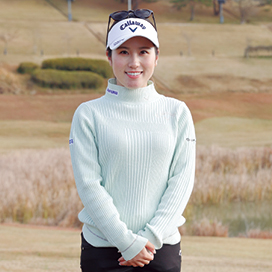 Yuna Nishimura Profile
Born

: August 4th, 2000 (Osaka, Japan)

Education

: Osaka University of Commerce High School

Turned pro

: January 2020

Affiliation

: Starts Corporation
During her rookie year in 2020, Nishimura won her first JLPGA tour. In the 2020-2021 season, Nishimura took part in 51 tournaments of which she won four. In the same season, she was ranked fifth in overall prize money. Nishimura was awarded the JPLGA SHISEIDO Beauty of the Year award based off her play results, her contributions to society, and fan vote.
Nishimura:I was surprised by the scale of it. After being shown many different machines, I realized there is a lot going on in the places that people don't really see, and I felt just how much our daily life is being supported by people behind the scenes. I also experienced how welcoming the company atmosphere of Daifuku is.
President Geshiro:I thank you for the kind words. For a long time, Daifuku has been like a "stagehand in the industrial world," supporting everyone from behind the scenes rather than taking center stage. We hope to continue to provide products that help people live easier, more convenient, lives.
Changing the subject, I would like to hear about how your last season was.
Nishimura:This last season, with the warm support of Daifuku, I was able to meet my goals of multiple wins in a season and top five earners by prize money. I was able to put out a golf performance I am proud of, and throughout this year of play, facing all the ups and downs was a great learning experience.
President Geshiro:Congratulations on meeting your goals. You had a great performance, and we were so pleased to see you wearing the Daifuku logo after our sponsorship deal in June of last year. Is there a key to your great success? If you have any kind of special routine, I would love to hear about it.
Motto: "Improvement Every Day"
Nishimura:I aim to always play with a smile. Being nervous causes your body to stiffen up, which can affect your play, so I consciously try to maintain a smile. I also hold the motto "improvement every day"; and each day I reflect on whether I have grown from the day before.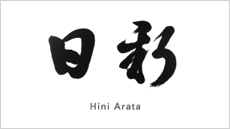 President Geshiro:It perfectly matches our creed: "Hini Arata"!
Nishimura:Yes! I just recently learned the origins of "Hini Arata" and felt that it is quite alike to my own motto.
President Geshiro:Wonderful! I think aiming to always smile is very important as well. I myself believe that always smiling will help prevent misfortune and bring about favorable events. Smiling does not just affect those around you but helps yourself be more positive. While we at Daifuku tout the creed "Hini Arata," I have not been actively reflecting on my own development at the end of each day like you, so I think I will start doing so.
Nishimura:Please do! As part of my daily routine, I write in my "reflection diary." I search for what didn't go well that day, what did go well, as well as where I think I improved over the day before. At first, each page was filled with many things that went wrong or could be improved, but thanks to the advice of my mental coach, I started to search for and write all the good points I experienced, too. In doing so, I was able to replace my memories of bad experiences with those of good ones and can play in tournaments with a positive attitude.
President Geshiro:I see you have proactively built a system to improve every day. Though I'm curious, how do you handle the low points of a season?
Nishimura:There are times where no matter how hard I try the results do not follow, it is painful, and golf starts to not be fun. When I feel like that, I go back to my foundations, I remind myself that I can do the thing I love as a job. Being able to do what I love everyday gives me the strength to overcome the challenges in front of me.
President Geshiro:That is very important. There are many things to learn from the way you think. How has the reaction around you been since you started wearing the Daifuku logo around your collar?
Nishimura:There has been a growing number of people around me who remark "Isn't that the company sponsoring you?" When they see the Daifuku logo on a car wash at a gasoline station. Also, one of my caddies, who works at an airport during the off season, immediately reacted upon seeing me wearing the logo with "that's the company that makes airport systems!"
President Geshiro:The media regularly makes comments like "her strength far exceeds her small frame" that seem to emphasize your physical stature, is that something you mind?
Nishimura:I have no problem with it and have always perceived it in a positive light. While there are certainly times that I have felt jealous over another athlete's height, one of the great points of playing golf is that height does not matter. It is an honor that the media regularly introduces me as "The Little Giant.""/p>
Goals: Multiple Wins and a Higher Ranking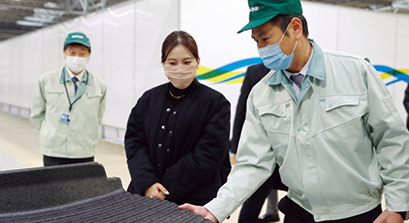 President Geshiro:Finally, if you would, please share your goals for this year.
Nishimura:This season, my goal is to raise my world ranking so that I can compete in golf majors abroad. I am also aiming to win multiple Japan tour titles this year.
President Geshiro:Daifuku has a large international presence, so we are all looking forward to your future international achievements.
Nishimura:That is very reassuring! I will work hard so that I can stand at the top of the world just as Daifuku does.
Sponsor Event at Shiga Works
On December fifth, professional golfer Yuna Nishimura was invited over to Daifuku's Shiga Works. The internal event saw Nishimura interacting with Daifuku employees through the likes of a short iron shot contest on a course maintained on the facility grounds, a lottery for signed balls and cards at Hini Arata Kan, and others.
*

The event was held under proper COVID-19 measures with limited participants who all passed an antigen test.