Environmental Vision 2050
One-Daifuku Zero Aiming for a world where material handling systems have zero environmental impact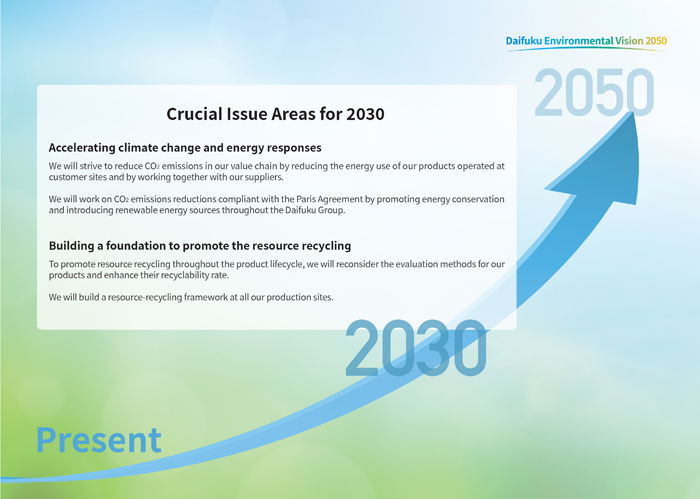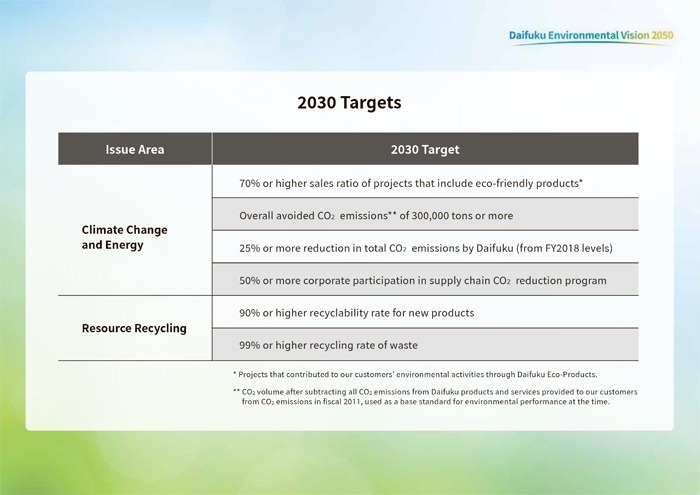 Daifuku Japan Environmental Action Plan
Themes
Main efforts
Management indicator
FY2021
FY2022
FY2023
Reducing Total Amount of Waste

Reduce defects in manufacturing process
Reduce packaging materials

Total amount of waste per basic unit of net sales (compared with FY2018)
94
92
90
Improve Recycling Rate of Waste
Waste recycling rate
95
96
97
Reduce Water Use at Production Sites

Water conservation efforts at production sites and offices

Water use per basic unit of net sales (compared with FY2018)
90
85
80
Revitalizing Eco Action

Expanding scope of efforts from environmental actions to CSR actions
Planning and holding new events and training sessions

Participants including employees
7,100
7,400
7,700
Advancing Conservation of Biodiversity

Studying, monitoring and conserving local ecological conditions of Shiga Works
Advancing conservation of biodiversity through outside partnerships

Implementing biodiversity conservation efforts
Yui no Mori forest maintenance
Yui no Mori embarking on reforestation
Yui no Mori planting and caring for trees
Environmental management system certification
We promote certification at all production sites and primary locations in Japan, and all main production sites overseas of the ISO 14001 international standards for environmental management systems. Production is carried out at all three of the ISO-certified Japan locations, and at the 15 overseas locations that have been ISO certified. 72% of production facilities have obtained certification.
| Certification standards | Production locations(consolidated) | Number of certified locations among total | Proportion of certified locations |
| --- | --- | --- | --- |
| ISO14001 | 25 | 18 | 72% |
TCFD
Membership status of climate-related organizations
Daifuku Group is a member of organizations aiming to solve climate change issues in order to achieve the "Daifuku Environmental Vision 2050" formulated in February 2021, and is involved in information sharing and policy proposals.
Environmental Vision 2020
*For more information, please refer to the PDF file.
Daifuku Environmental Vision 2020(PDF : 112KB)
Objectives and Results
Initiative
Objective and Main Approach
Scope
Key Indicator
FY2020 Target
FY2020 Result
Evaluation
Promote environmentally friendly activities in business operations
Preventing global warming

Energy-saving efforts at production and office locations
Make environmental improvements to production equipment
Modal shift in product shipping
Actively adopt renewable energy
Evaluate and disclose scope 3 emissions
CO2 Third Party Certification

Japan
(Production and office locations)
Total CO2 emission volume compared with levels in FY2005
Reduction of 41% or more
59.1% reduction
✓
CO2 emissions per basic unit of net sales compared with levels in FY2005
72% or less
29.0%
✓
Japan (Product transportation)
78% or less
50.8%
✓
Global
CO2 emissions per basic unit of net sales compared with levels in FY2011
50% or less
42.3%
✓
Resource saving

Energy-saving efforts at production and office locations
Decreasing waste by recycling valuable resources
Save resources by decreasing final disposals

Japan (Production and office locations)
Waste generated per basic unit of net sales compared with levels in FY2005
72% or less
47.5%
✓
Waste recycling rate (including cost items)
99% or more
99.2%
✓
Amount of water used per basic unit of net sales compared with levels in FY2005
57% or less
23.7%
✓
Global
Amount of water used per basic unit of net sales compared with levels in FY2011
40% or less
25.2%
✓
Preserving biodiversity

Ascertain the connection with biodiversity and business activities
Evaluate and monitor the ecosystem in the Shiga Works
Eco-education centered around the Shiga Works
Biodiversity Preservation Initiatives, Yui no Mori (preservation of Yamato salamanders, birds and insects)

Japan (Production and office locations)
―
Continue with our unique biodiversity preservation centering on the Yui Project

Conservation of the Yamato Salamander (relocating and breeding)
Ministry of the Environment Monitoring Site 1000 Satoyama Survey
Dragonfly conservation and monitoring

✓
Green Procurement

Dissemination and commitment to the Green Procurement Guideline
Exchange information with suppliers

Continue to decrease the environmental impact throughout the supply chain caused by substances of concern
Ascertain the situation regarding the environmental impact caused by emissions from our suppliers
△
Expand environmentally friendly products and services

Expand the number of Daifuku Eco-Products
Develop and provide products that contribute to energy savings
Undertake and disclose life-cycle assessments

Global
Daifuku Eco-Product certification
63 or more certified products
70 certified product
✓
CO2 Reduction Contribution
100,000 ton-CO2
72,474 ton-CO2
×
Strengthen environmental management platform
Environmental education

Regularly hold environmental education activities
Promote the Eco-Action program

―
Total of 8,000 or more employees participating in the Eco-Action program (events, lectures, development of autonomous activities domestically and internationally)
Total of 7,122 employees participating in Eco-Action program
×
Environmental management framework

Gather information to set targets at global affiliates
Implement a framework to gather environmental information from across the Group

D-EMS company-wide implementation rate of 100%
Setting up a Global Committee

D-EMS company-wide implementation rate of 96.3%
Environmental-themed events (photo contest)
Set up a Sustainability Committee

×
Biodiversity Preservation
In order to clarify the relationship between business activities and ecosystems, Daifuku has mapped the interaction of product processes, land use, and other ecosystem aspects. Based on this map, Daifuku notes the impact on ecosystems by the land use at the Shiga Works, which is endowed with nature, and is conducting business activities that take biodiversity into account.
Conservation Activities at Shiga Works
In terms of site area, the Shiga Works is one of the largest land users in Shiga Prefecture. A survey of ecosystems within Shiga Works confirmed more than 700 native species, and over 50 rare and endangered species. In order to preserve this precious natural environment for subsequent generations, we have established a biodiversity preservation activity called the "Yui Project" to promote communication both within and outside the company, and we are pursuing various conservation initiatives.
Results of Ecosystems Survey(rare and endangered species)
Classification
Species
Type
Birds
Falcated duck, little grebe, little ringed plover, Eurasian sparrowhawk, buzzard, red-rumped swallow, olive-backed pipit, Eurasian bullfinch, peregrine falcon, etc.
27
Amphibians
Clouded salamander, Japanese brown frog, leopard frog, schlegel's green tree frog
4
Reptiles and mammals
Japanese pond turtle, harvest mouse
2
Insects
Asiagomphus pryeri(dragonfly), trigomphus interruptus(dragonfly), trigomphus ogumai(dragonfly), epitheca marginata(dragonfly), spring cicada, polyrhachis lamellidens, gynacantha japonica, libellula quadrimaculata asahinai, sympetrum baccha matutinum, hydrochara affinis, Yellow Dater dragonfly
11
Fish
Gin-buna, dark sleeper
2
Plants
Stalked adder's tongue fern, early amythesy(beautyberry), yellow bladderwort, platycodon, atractylodes japonica, agrostis valvata, golden orchid
7
Total
53
Yui no Mori
As part of a biodiversity preservation activity called the Yui Project*, which started at Shiga Works in 2014, we set up the Yui no Mori(Mori = forest; comprised of a conservation pond, learning square, etc.). We engaged in biodiversity conservation activities for a region-specific red pine forest, the rare clouded salamanders and other species. The project also serves as a learning environment inside and outside the company.
*

Yui Project: Yui means to "bring together," and the project refers to various activities to bring together "water with greenery, people with nature, and people to people."
Creating opportunities for interacting with nature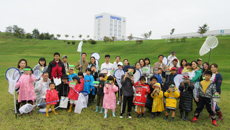 At the Shiga Works, we hold nature observation events with experts, so that employees have opportunities to interact with the many plants and animals that inhabit the surrounding area, as well as Christmas wreath-making and moss ball making events using natural materials at the Works. These events were cancelled in fiscal 2020 to prevent the spread of COVID-19.
Initiatives Outside the Company
Participating in the Shiga Green-activity Network's biodiversity and CSR research association
Daifuku is a founding member of a research association established in 2015 that looks into biodiversity, the environment and CSR. The association, which was formed as part of the Shiga Green-activity Network, of which Daifuku is also a member, plans and holds seminars and other events for members intended to facilitate learning about biodiversity, create opportunities to learn about the latest CSR trends centered on the field of biodiversity, and encourage communication between association members.
Participating in the Biodiversity Biwako Network's dragonfly conservation efforts through corporate collaboration
In 2016, the eight neighboring companies* of the Shiga Works launched the Biodiversity Biwako Network, which is engaged in biodiversity conservation activities using the 100 dragonfly species confirmed in the prefecture as indicators. The project, entitled Operation Dragonfly 100: Save Shiga's Dragonflies, has three strategies: search for the 100 dragonfly species in Shiga Prefecture, protect them, and educate the public about them. We are also engaged in regular monitoring at the company site, maintenance of biotopes and extermination of invasive alien species, nature observation meetings, exhibitions and presentations of our activities, as well as understanding of the current state of nature in the surrounding area.
*

Asahi Kasei Corporation, Asahi Kasei Juko Co., Ltd., OMRON Corporation, Sekisui Chemical Co., Ltd., Sekisui Jushi Corporation, Daihatsu Motor Co., Ltd., Yanmar Holdings, Inc., and Daifuku Co., Ltd.
Eco-Management Structure
In 2012, Daifuku established its Eco-Action program, which rewards eco-points for environmental activities undertaken by employees in a bid to foster an environmental mindset. With a variety of ecological activities provided in each region, a total of 7,122 employees participated in volunteer activities and environmental learning events in fiscal 2020.
Eco-points gained by employees can be exchanged for green goods and other rewards. In addition, we donate an amount equivalent to the total points gained by them to external organizations.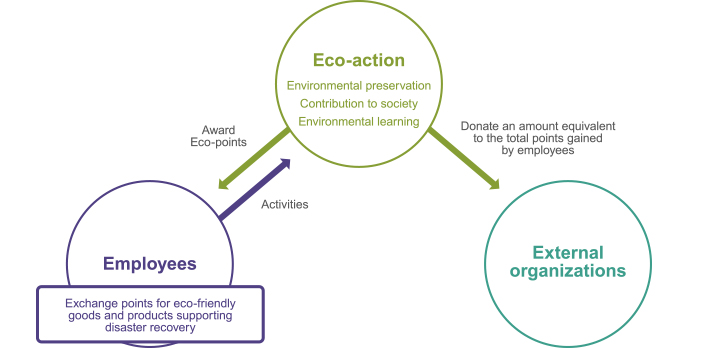 Eco-Action events(examples)
Program
Content / Description
FY2020
Total number of participants
Eco Field Report
Learn about the environment through experiences at nature parks, zoos, museums, environmental facilities, etc.
247 people
Eco Quiz
Eco Quiz published in the in-house newsletter. Disseminate information about the environment and deepen the understanding of this topic
2,773 people
Environment oriented household account book
Allows entering data about usage of electricity and water etc. for visualization to raise awareness of energy conservation
112 people
Lake Biwa reed cutting activity
Participate in a conservation cycle event to protect the reeds and encourage water purification of Lake Biwa
-
Non-native species fishing tournament
Participate in efforts to reduce breeding of non-native fish, in order to protect the ecosystem of Lake Biwa
-
Water spraying event
Participate in a water-spraying event together with other organizations and businesses to counter the heat island effect in urban areas
-
Change in number of participants
| | FY2018 | FY2019 | FY2020 |
| --- | --- | --- | --- |
| Total number of participants | 6,458 people | 13,403 people | 7,122 people |
Donations
In fiscal 2020, Daifuku made the following donations as a part of the Daifuku Eco-Action Program, which is an employee participation-style environmental initiative.
Donation target
Amount
Content
(Continued)9th year
Shiga Prefectural Lake Biwa Museum
1,000,000 yen
(previous year: 1,000,000 yen)
Museum Renewal Operating Cost
(Continued) 8th year
Hini Arata Kan carbon offset
460,000 yen
(previous year: 530,000 yen)
Offset through contributions to the regional reduction framework of amounts equal to CO2 emissions generated from operating the Hini Arata Kan and associated with visitor movements there
(Continued) 7th year
United Nations Decade on Biodiversity Japan Committee
1,200,000 yen
(previous year: 1,200,000 yen)
Various initiatives to raise mainstream public awareness of biodiversity preservation
(Continued)3rd year
Shiga Green-activity Network
150,000 yen
(previous year: 200,000 yen)
Holding education and awareness seminars and events to promote reducing the environmental impact
(Continued)2nd year
The Nature Conservation Society of Japan
200,000 yen
(previous year: 200,000 yen)
Various projects to facilitate education and awareness of, and investigative research on nature conservation
(New)
Decarbonization Challenge Cup Executive Committee
100,000 yen
The purpose of the conference is to share information and promote activities by soliciting and providing a forum for presentations on preventing Global Warming.
Evaluation from Outside the Company