Promote innovative technological development and invention
Relationship to SDGs
Goal
Target
No.
Initiative
8. Decent work and economic growth
8.2
Achieve higher levels of economic productivity through diversification, technological upgrading and innovation, including through a focus on high-value added and labour-intensive sectors

KPI
Initiative
Target
FY2021
FY2022
FY2023
Innovation investment amount *1
15 billion yen
15 billion yen
15 billion yen
Patent registrations
3,600 patents
3,800 patents
4,000 patents
*1:

Research and development expenses+DX investment amount
Action
Number of patents registered
Daifuku proactively applies for patents and acquisition rights primarily for newly developed products. The progress of globalization has resulted in an increased number of patent applications made outside Japan in recent years.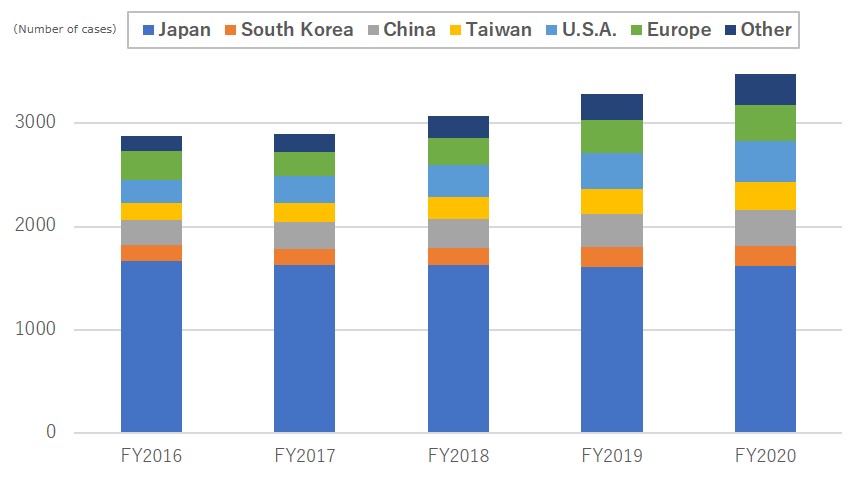 Innovation case
Daifuku has conducted joint research and development with universities and companies, and of course also develops its own in-house technology.
In addition, we are promoting open innovation to strengthen our core business and generate technologies leading to the creation of new businesses. One of these representative core technologies, is our HID*, a noncontact power supply system that has produced high added value over the last quarter of a century. In this section, we will profile HID technology, a system that contributes to the environment and safety, and has earned high praise from the automobile and semiconductor industries.
* HID: High efficiency inductive power distribution(technology)