Create a workplace environment that motivates employee
Relationship to SDGs
Goal
Target
No.
Initiative
3. Good health and well-being
3.8
Achieve universal health coverage, including financial risk protection, access to quality essential health-care services and access to safe, effective, quality and affordable essential medicines and vaccines for all
8. Decent work and economic growth
8.2
Achieve higher levels of economic productivity through diversification, technological upgrading and innovation, including through a focus on high-value added and labour-intensive sectors
8.8
Protect labour rights and promote safe and secure working environments for all workers, including migrant workers, in particular women migrants, and those in precarious employment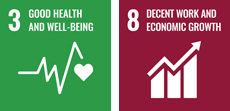 KPI
Initiative
Target
FY2021
FY2022
FY2023
Rate employees take paid leave
73%
76%
80%
Maintaining high rate of stress check testing
96%
96%
96%
Holding events to encourage mental and physical health
Continued events centered on main facilities
Promotion Framework
To ensure that employees feel secure working in our facilities, we have established the following two cross-company committees.
Mental and Physical Health Committee: This Committee mainly plans events and promotes measures aimed to build the mental and physical health of employees.
Workstyle Reform Committee: This Committee promotes measures to help employees achieve a work-life balance, and improve productivity by creating a working environment that is motivating for a diverse set of individuals.
Daifuku Group Health Management Declaration
In view of the importance of the physical and mental health of employees, Daifuku adopted the Declaration of Group Health Management in April 2018. We are implementing various health promotion policies and organize events based on health issues toward creating a more stimulating and healthy workplace environment.
Daifuku continuously promote activities to maintain and increase the physical and mental health of its employees. Considering the health of all associates as fundamentals to the sustainable growth of its business.
Daifuku strives to provide a comfortable and hygienic workplace environments with the aim of raising the quality of the work and the lives of each employee.
Daifuku, led by the Mental and Physical Health Promotion Committee, a companywide organization encompassing corporate and industry medical practitioners and public health nurse and labor unions, promotes to raise health awareness and the work-life balance of its employees by implementing health promotion measures.
Mental & Physical Health Promotion Committee
Action
Work Environment
We promote initiatives to encourage a positive work-life balance, in order to improve the quality of both the work and personal lives of our employees while contributing to the sustainable growth of Daifuku as a whole.
Work-style reform
Daifuku's Work-Style Reform Committee commenced in April, 2017. Aiming for employees' work-life balance, the Committee's approach targets reforms to (1) work processes and relevant systems , (2) time management to reduce overwork, and (3) workplace culture and employee awareness.
Collective agreement
We support our employees' rights of collective bargaining. Daifuku has a labor union that works on behalf of the rights of all non-management employees who work at our Japan locations.
Addressing workplace harassment
Daifuku has established the Personnel Consultation Office to handle in-house rules and personnel evaluations as well as consultations regarding sexual harassment and power harassment. With a focus on privacy, we strive to create an environment that encourages employees to discuss any problems they may face.
Work-life balance
We promote initiatives to encourage employee awareness of the need to maintain a positive work-life balance. This is intended to improve the quality of the work lives and personal lives of individual employees while contributing to the sustainable growth of Daifuku as a whole.
Under amendments to the Labor Standards Law and the Child Care and Family Care Leave Law as well as the enacting of the Women's Active Participation Promotion Law, etc., we are taking steps to revise our personnel system and implement a system to accommodate more diverse work styles.
Improving systems according to various ways of working
System
Content
Employee Refreshment
Flex-time system
We introduced a flex-time system to increase time consciousness through self-management, improve efficiency and productivity, and promote work-life balance.
Leaving work on time
Daifuku designates every Wednesday as Health Day and encourages employees to leave work on time.
Daifuku promotes this through an internal communications and regularly checking offices.
Planned paid leave system
We encourage employees to take three days of paid leave (five or more continuous days including the weekend) between June and September every year. We monitor paid leave at the company with the union and aim for 100% acquisition rate.
Long leave system
Daifuku has introduced a long leave system so that each employee can take a maximum of 60 accumulated days of leave for volunteer activities, treatment of non-occupational injuries, childcare, family care, and nursing care.
Refreshment leave
Daifuku grants employees 20 continuous days of leave, including Saturdays and Sundays, to employees that turn 50 years old so that they can temporarily leave their work, design their future life plan, and return refreshed to their work.
Childcare support
Maternity leave (employee's childbirth)
6 weeks before childbirth (14 weeks for multiple pregnancy), 8 weeks after childbirth
Paternity leave (spouse gives birth)
2 days when the employee's spouse gives birth
Childcare leave system
Up to the end of the month in which the child turns 1 year old.
(It is possible to extend the term up to 1 year and 6 months of age if daycare service is unavailable. The term can be extended up to 2 years of age if daycare service is still unavailable at the 1 year 6 months point.)
System supporting early return to work after childcare leave
For employees who have returned to work early after taking childcare leave (not to exceed 11 months following childbirth) and are making use of a childcare service for a child under 1 year, we assist them with the associated costs.
Shortened workday system
In cases where an employee is raising a child who has not yet reached the end of the third grade of elementary school, a shortened workday schedule can be applied for up to six years. (Otherwise, a flextime system with no set core time can be applied)
Sick childcare leave
For a child in the third grade of elementary school or younger who is being treated for an illness, childcare leave can be taken for five days a year (for two or more children, 10 days a year). (earnings in full day or on an hourly basis are possible)
Job Return Entry System
For employees who have retired for reasons of childcare, the company offers opportunities for re-employment under certain specific conditions.
Other
We offer a system to support the cost of babysitting services, and a system offering information on entering a childcare facility or using outsourced welfare services.
Support for family care
Family care leave system
A maximum of 1 year is available to provide care for a family member
Shortened workday system
For employees who are caring for a family member, a shortened workday program can be applied for up to three years. (Otherwise, a flextime system with no set core time can be used)
Family care leave
5 days per family member requiring care. 10 days if the employee has 2 or more family members requiring care. (earnings in full day or on an hourly basis are possible)
Job Return Entry System
For employees who have retired for reasons related to family health care, the company offers opportunities for re-employment under certain specific conditions.
Average paid leave utilization rate
KPI
| | FY2018 | FY2019 | FY2020 |
| --- | --- | --- | --- |
| Average paid leave utilization rate | 62.3% | 68.7% | 71.2% |
Mental & physical health promotion
KPI
In fiscal 2020, we cancelled the group events and focused on online programs and walking events. Another advantage was that those who had difficulty attending group events could easily participate in the online program. We will continue to implement what we can as we can in fiscal 2021.
Mental health measures
Daifuku held a "Rakugo in English" event at the Tokyo Head Office, which was a performance of traditional Japanese comic storytelling, known as rakugo, rakugo in Japanese and English. The benefits of laughter on mental health are well known, and this event was aimed at providing employees with a chance to experience Japanese culture while enjoy the healing effects of having a laugh.
Physical health measures
Shiga Works holds a lunch walk twice a month using the promenade within the plant. In fiscal 2020, a total of 3,306 people participated in the program, and employees' health awareness has been increasing. In addition, we held a Coffeewalk event in collaboration with the Regional Revitalization Team project.
Exercise measures
The Komaki Works has been holding exercise seminars every Wednesday for the past five years, in an effort to eliminate a lack of exercise among employees. The seminars are designed to keep employees interested so that they continue to exercise; this includes incorporating special programs such as core training, Zumba, and Group Fight classes.
Dietary measures
Daifuku's employee cafeteria has developed a more nutritionally balanced menu capable of contributing to the improved health of employees through food. These continued efforts have earned the Osaka Headquarters, Shiga Works and Komaki Works cafeterias a Smart Meal Certification, an accolade available only to cafeterias that meet a defined standard for providing healthy meals and a healthy eating environment (recognized through a three-step evaluation).
Massage room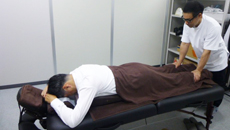 Daifuku has set up a massage room for employees, with the aim of promoting health by focusing on recovering from fatigue and alleviating stress. We also have in-house physiotherapists available for employees to use, in an effort to expand the employment of people with disabilities. We have been offering health consultations by public health nurses and chair massages by physiotherapists, who travel to service sites in the jurisdiction of the Osaka Headquarters.
Improvement in working environment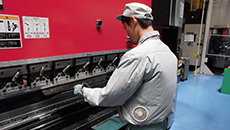 To guard against heatstroke and improve working conditions, we have introduced air conditioned clothing for machine operators.