Strengthen information security
KPI
Initiative
Target
FY2021
FY2022
FY2023
Number of global information security education sessions
2 sessions
4 sessions
4 sessions + education following up training
Number of global e-mail training sessions
3 sessions
4 sessions
4 sessions
Promotion Framework
Information Security Committee
As threats to information security are becoming increasingly advanced, ingenious and pernicious, it is vital to tackle them through continuous efforts and actions.
We established the Information Security Committee more than 10 years ago to maintain and improve information security across the Daifuku Group.
Considering the globalization of our business and the increasing role that the IoT(Internet of Things)plays for our products and services, it is more important than ever to promote the information security of our products and services. Through evaluating and countering IT risk factors embedded both inside and outside the company, we are promoting information security initiatives that are appropriate for a global enterprise together with our business operations.
Initiative guidelines
Reinforce regulations and develop policies with the aim of raising the standard of the Daifuku Group's information security as a whole
Coordinate with business and investigate information security policies for products and services
Quantify in a way that is aligned with the KPI settings and establish the objective evaluation of results
Framework for initiatives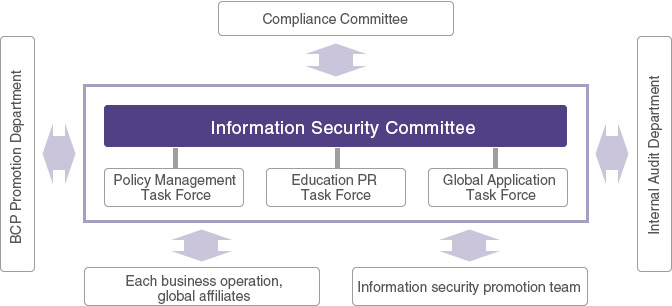 Policies for information security countermeasures
Infrastructure aspect:
Threats to information security are on the rise and have become increasingly malicious. We therefore prepare for possible attacks through up-to-date and multilevel defense systems in cooperation with specialist security companies.
Human aspect:
In cases of information theft which use human psychological techniques or deceitful approaches, prevention is difficult if only relying on infrastructure countermeasures. We will enhance our employees' information security knowledge and understanding through initiatives by the Information Security Committee, internal training programs and simulated cyber terrorism training sessions.

Action
CSIRT
The mission of the CSIRT(Computer Security Incident Response Team)is to deal with information leaks stemming for example from cyber attacks and respond to any other computer security incidents. The CSIRT is centered on the Information Security Committee, enabling Daifuku to swiftly identify the possible scope of an accident and damage, put first-response measures in place, and investigate causes and means to prevent reoccurrence.
Number of training sessions conducted for targeted cyber attack emails
KPI
The target for fiscal 2020 was to hold two sessions, and the actual number of sessions held was two. For those who clicked on the links in the training e-mails, the points to watch out for were displayed in each language to increase the effectiveness. In fiscal 2021, we will introduce a system that enables more effective education and training, and continue to provide training to employees to prevent information leaks due to cyber-attacks or human error.
| | FY2018 | FY2019 | FY2020 |
| --- | --- | --- | --- |
| Number of training sessions | 2 training sessions | 2 training sessions | 2 training sessions |