Expand environmentally friendly products and services
Relationship to SDGs
Goal
Target
No.
Initiative
7. Affordable and clean energy
7.3
By 2030, double the global rate of improvement in energy efficiency
9. Industry innovation and infrastructure
9.4
By 2030, upgrade infrastructure and retrofit industries to make them sustainable, with increased resource-use efficiency and greater adoption of clean and environmentally sound technologies and industrial processes, with all countries taking action in accordance with their respective capabilities
12. Responsible consumption and production
12.4
By 2020, achieve the environmentally sound management of chemicals and all wastes throughout their life cycle, in accordance with agreed international frameworks, and significantly reduce their release to air, water and soil in order to minimize their adverse impacts on human health and the environment

KPI
Initiative
Target
FY2021
FY2022
FY2023
Contribution amount to reduce CO2 emissions through products/services*7
30K t-CO2
60K t-CO2
90K t-CO2
Sales rate of eco-friendly projects*8
43%
46%
49%
Recyclability rate of new products
90%
90%
90%
*7:

The amount calculated when subtracting the amount of CO2 emissions from products/services delivered to customers from amount of CO2

*8:

Projects that make eco-friendly contributions to customers such as with Daifuku's eco-products
Promotion Framework
We are promoting the following regime to expand environmentally-conscious products and services.
[Target issues] Contribute to reducing CO2 through products and services, environmentally-conscious properties, Daifuku Ecoproducts Certification etc.
Action
Daifuku Eco-Products Certification Program
In 2012, Daifuku began its Daifuku Eco-Products Certification Program to certify products based on environmental impact assessment ratings and a certification system using Daifuku's own standards. Under the program, all products across the Group are measured under the same standards, with measurements coming from results of a Life Cycle Assessment (LCA) and environmental performance assessments on a number of areas, including power saving, recyclability, lightweight, long Life, packing material reduction, water conservation, noise reduction, water pollution prevention, and harmful substance reduction. As of May 2021, 70 products have met the standards and been certified as Daifuku Eco-Products.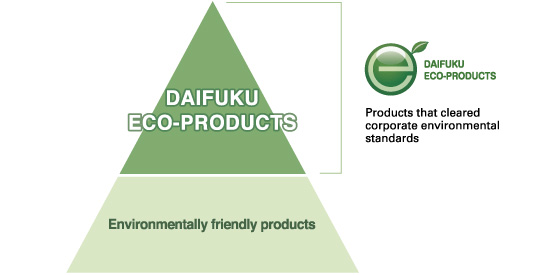 Certification process
To obtain a valid and trustworthy rating from multiple perspectives, the screenings are done by the Eco-Product Committee, comprised of directors or chief operating officers from different operations.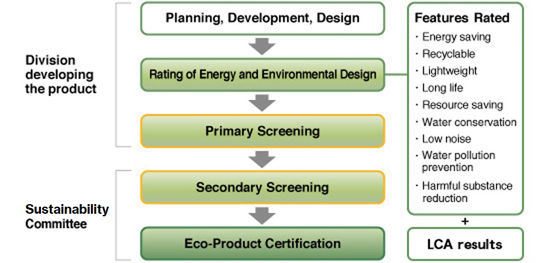 Sales of Daifuku eco-certified products
| | FY2017 | FY2018 | FY2019 |
| --- | --- | --- | --- |
| Sales of Daifuku eco-certified products(Million yen) | 26,215 | 40,488 | 38,211 |
| Sales excluding services*(Million yen) | 303,925 | 351,586 | 334,794 |
| Sales ratio | 8.6% | 11.5% | 11.4% |
*

Daifuku sales are generally divided into sales for new deliveries and sales for follow-up services, such as maintenance and inspections. The sales ratio for Daifuku eco-certified products uses the amount of total sales with service sales deducted.
Life Cycle Assessment
From 2015, we have incorporated the life cycle assessment (LCA) as a analysis tool for desigining eco-friendly products. By comparing old and new products, we are able to further enhance our eco-friendly product designs.
Results of LCA conducted on the New Goodrack (heavy load storage rack)
Specifications of a standard representational model:
| | |
| --- | --- |
| Width (W): | 2,500 mm |
| Depth (L): | 1,100 mm |
| Height (H): | 5,000 mm |
| Number of levels: | 3 beam levels (maximum load: 2,000 kg/level) |
| Connection: | 10 spans |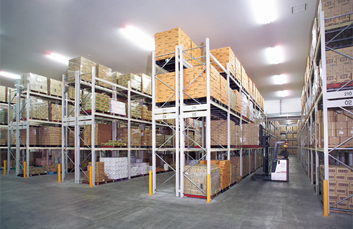 1. LCA computation scope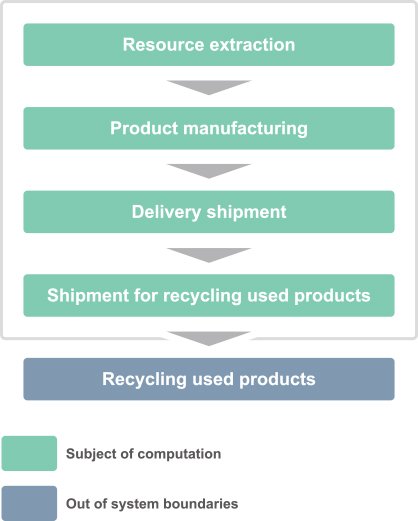 2. Impact assessment
We assessed the impact of six environmental issues according to product life cycle stages. We also compared the environmental impact of new and previous products.
Summary of impact assessment by product life-cycle stage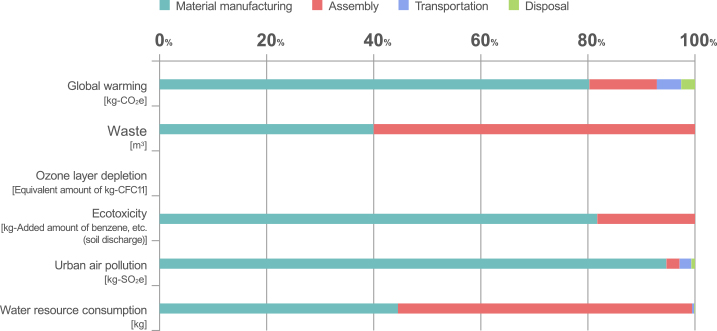 Material manufacturing stage contribution exceeded 80% for global warming, ecotoxicity (terrestrial) and urban air pollution.
Assembly stage largely contributed (around 60%) to waste disposal site exhaustion and water resource consumption.
Within the computation conditions no clear impact was noticed towards ozone depletion.
Transportation stage and disposal stage impact were minimal across all listed environmental issues.
Comparison with previous product (Global warming)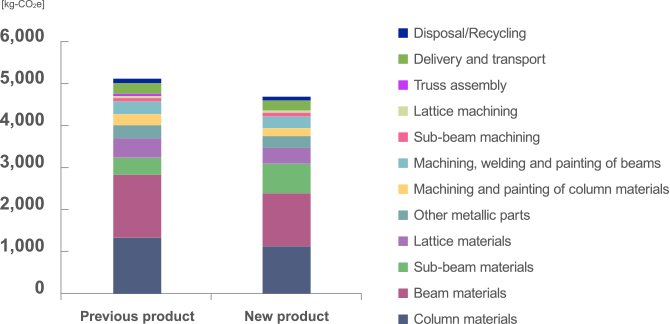 Environmental impact reduction rate for new products was 7.4%.
Decreasing the weight of trusses and beams was the main contribution to the reduction of environmental impact.
Compliance with European harmful substance regulations
The entire Daifuku Group focuses on the European REACH regulations.*, and goes to great lengths to visualize and remove any harmful chemicals in its products. The Company continues to offer environmentally friendly products through implementation of Green Procurement Guidelines by looking at its entire supply chain.
*

REACH (Registration, Evaluation, Authorization, and Restriction of Chemicals) Regulations: Companies must register and evaluate the safety of chemical substances contained in the products they manufacture and sell in Europe.