Daifuku Announces Grand Opening of New Manufacturing Plant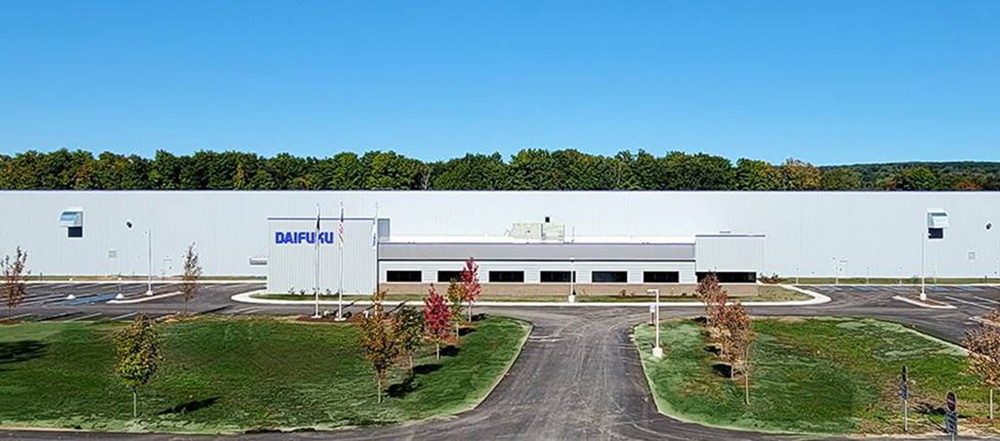 Jervis B. Webb Company, a Daifuku Group company, held a Grand Opening Ceremony on October 11, 2022, for its new manufacturing plant in Boyne City, Michigan, USA.
The Northern Michigan Manufacturing Plant was constructed over 17 months, from May 2021 to September 2022. The plant combines the operations of the existing Harbor Springs, Pellston, and Boyne City plants. All Webb baggage handling products will be produced in the new plant, including conveyors, baggage claim carousels, Mobile Inspection Tables, and automated screening lanes. In addition, Webb's complete line of AGVs and SmartCarts will be manufactured there. The building includes an AGV test course and conference rooms, and was designed to allow for the future expansion of 65,000 square feet of manufacturing space.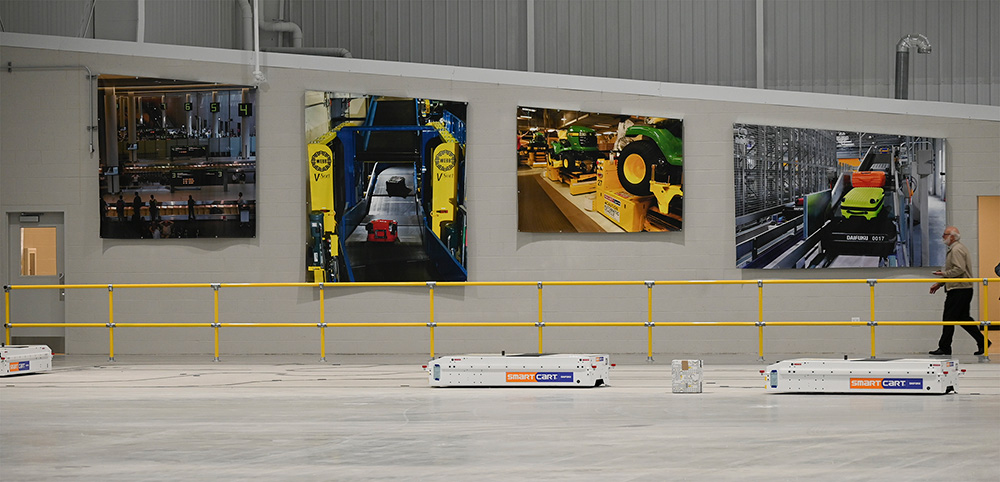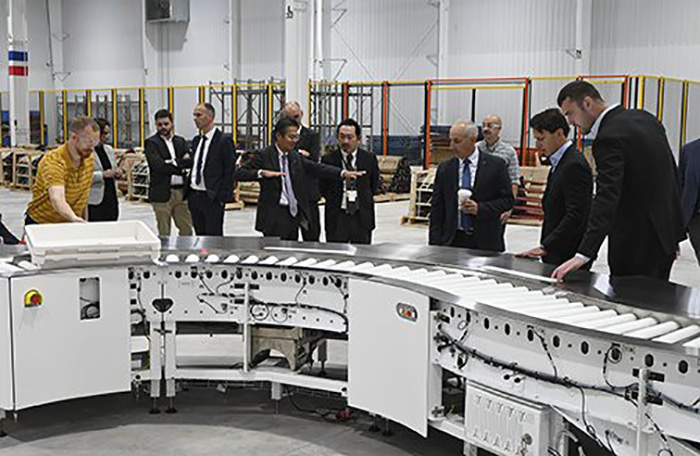 People touring the plant at the grand opening ceremony
Daifuku's previous plants will be closed and operations consolidated to the new plant by April 2023. The consolidation will provide a roughly 30% increase in production capacity. Additionally, consolidating operations into one plant eliminates the need to truck materials between plants, and increasing capacity in powder coating and laser cutting reduces the need to outsource, lowering operation costs. Having manufacturing at a single location will improve demand forecasting for parts which alleviates potential supply chain issues.
The facility includes several sustainability initiatives such as the installation of energy-efficient LED lighting and motion sensors to reduce energy consumption of interior and exterior building lighting, as well as the construction of four electric vehicle charging stations.
On October 11, 2022, a Grand Opening Celebration was held at the new Northern Michigan Manufacturing facility. Speaking at the ribbon-cutting ceremony were Shuichi Honda, President and CEO of Daifuku North America Holding Company; Todd Alderman, President of Jervis B. Webb Company; Ed Hunt, President of our general contractor, Integrity Construction Services; Senator Wayne A. Schmidt, Michigan's 37th State Senate District; Michael Cain, Manager of Boyne City; Sue Hobbs, Supervisor of Boyne Valley Township; and David Emmel, President of Northern Lakes Economic Alliance. Nearly 200 people were in attendance. The celebration event was reported on by the media.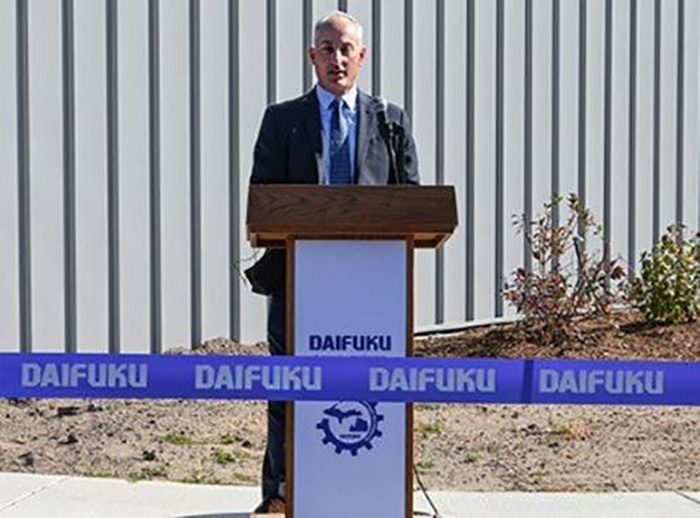 Todd Alderman, President of Jervis B. Webb Company
"I think it's really exciting. You're looking at a brand-new manufacturing facility based here in Boyne City. Can't say thank you enough for [Daifuku's] commitment to northern Michigan," said Senator Wayne Schmidt.
David Emmel, the President of Northern Lakes Economic Alliance, said "this is a great example of why northern Michigan is such a great place to do business. This is a very low-cost environment for manufacturers. And so you see around this whole area a large concentration of industry and business in the metal working, fabrication, and ferrous and non-ferrous metals. It's a competency we have here." Showing just how important facilities like these are to the local economy. Emmel continued, "these investments trickle down through our economy at levels that most people don't recognize. So there's something we call a multiplier effect, which is for every dollar invested in a company like this, it will support another $4.3 into the local economy through wages, direct wages, and salaries for individuals."
"In 1964, our business began its expansion into the northern Michigan communities of Harbor Springs, Pellston, and Boyne City," said Todd Alderman, President of Jervis B. Webb Company. "After 58 years, we built this new plant to reflect the commitment to our quality team members and communities in this area while increasing our production capacity to support our growth. With all manufacturing under one roof, this is an excellent opportunity to streamline our processes and eliminate inefficiencies."
Northern Michigan Manufacturing Plant Overview
| | |
| --- | --- |
| Address: | 300 M75 South Boyne City, Michigan 49712 U.S. |
| Site area: | 22 acres (89,000 m2) including manufacturing space. The building was designed to allow for future expansion of 65,000 ft2 (6,000 m2) |
| Newly introduced equipment: | Laser cutting machine and powder coating line equipment |
| Investment amount: | $26 million |