Protect employee health and safety
Relationship to SDGs
Goal
Target
No.
Initiative
3. Good health and well-being
3.6
By 2020, halve the number of global deaths and injuries from road traffic accidents
3.9
By 2030, substantially reduce the number of deaths and illnesses from hazardous chemicals and air, water and soil pollution and contamination

KPI
Initiative
Target
FY2021
FY2022
FY2023
Frequency rate: Japan (overseas)
0.4(0.9)
0.4(0.8)
0.3(0.6)
Strength rate: Japan (overseas)
0.02(0.03)
0.01(0.02)
0.01(0.02)
Number of new labor health and safety trainees
1,500 trainees
1,600 trainees
1,700 trainees
Number of serious accidents (*5)
0 accidents
0 accidents
0 accidents
*5:

Accidental deaths occuring during work at Daifuku (labor accidents)
Promotion Framework
The Daifuku Group places the greatest priority on the safety of all employees and partners who work at its Japanese and overseas workplaces. In order to eradicate industrial accidents, the Group has therefore established a Central Health and Safety Committee under the direct control of the CEO. Regional Health and Safety Committees and various expert committees (construction and installation/production/procurement) have been set up under this Committee to ensure safety in all Group companies, and establish health management systems throughout the Daifuku group. Daifuku has obtained the occupational safety and health management system certification (ISO 45001) at all its major sites. We are committed to continuing our safety culture cultivated over many years, and striving to make our workplaces essentially safe by identifying all potential risks.
Also, having experienced serious accidents in the past, we are now cooperating and sharing information with our suppliers through Safety Cooperation Associations and the Health and Safety Seminar for Suppliers. Through this cooperation and information sharing with suppliers, we are aiming to achieve safety based on mutual awareness and education.
Safety Policy
Safety slogan

Safety is at the foundation of corporate sustainability and supersedes everything.

Safety target

Implementing safety first and aiming to occupational accidents and traffic accidents "zero"

Safety policy

1)

Establish a safety and health management system and promote participation in health and safety activities for all.

2)

Comply with the Industrial Safety and Health Act and other related laws and regulations.

3)

Operate the PDCA cycle of the Occupational Safety and Health Management System (ISO 45001) to manage risks and continuously improve safety.

4)

Establish an education system for health and safety management and expand globally.

5)

Utilize new DX and IoT technologies to develop safety activities

6)

Support the autonomous health and safety management activities of our partner companies.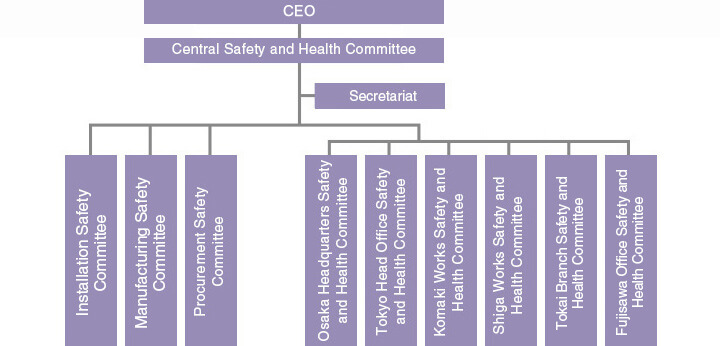 Action
Safety index
KPI
The Daifuku Group uses an accident frequency rate and severity rate as safety management indicators. We share this and other information, and provide appropriate guidance and safety awareness to departments that need to improve their safety measures. Especially for serious accidents (fatal accidents), we will work toward zero.
Frequency Rate:

The number of casualties per one million employee-hours worked at bases and companies. This rate indicates the frequency of accidents.

Severity Rate:

The number of lost work days experienced per 1,000 work hours. This rate indicates the severity of accidents.
Indicator
Scope
FY2018
FY2019
FY2020
Frequency Rate
Japan
1.4
0.83
0.37
Non-Japan
1.13
1.50
0.98
All industries in Japan*
1.83
1.80
1.95
Severity rate
Japan
0.06
0.004
0.02
Non-Japan
0.32
0.02
0.03
Employee Fatalities
Japan
0 people
0 people
0 people
Non-Japan
0 people
0 people
0 people
*

provided by the Ministry of Health, Labour and Welfare.
Response to work accidents
Daifuku has built a risk management promotion system, and when a work accident occurs, the disaster/accident reporting route common to all of our companies is followed to report the situation to the CEO from the workplace involved. Additionally, the department involved and the Safety Promotion Department conduct a joint investigation and analysis of the accident, and report the results to the Labor Health and Safety Committee of all companies.

Supply chain management grounded in law
When embarking on product or system installation, Daifuku ensures compliance with the provision in the Construction Business Act that states "The parties to a contract for construction work shall conclude the contract fairly based on agreements made on terms of equality and shall fulfill the contract honestly and in good faith." And we strive to ensure that both the health and safety of workers are not harmed as stipulated in the Industrial Safety and Health Act.
Further, we engage in transactions with suppliers applicable under the Subcontractor Act in the spirit of the law, while also making known and requesting cooperation with the Group's Code of Conduct and CSR Procurement Standards to build appropriate relations with our suppliers.
Implementing audits of the safety management system
We carry out annual internal audits based on ISO 45001 standards at our main locations, and we verify the efficacy of our management system and the state of safety activities at our workplaces with inspections by the top management, including the president.
Further, we also undergo a yearly audit by an external certifying body, as we maintain and expand the scope of our certification.
Safety management in conjunction with partner companies
The Daifuku Group's safety activities, both in Japan and overseas, are not just applicable to our own employees, but also extend to our partner companies and subcontractors. We also conduct business with safety management as our top priority, such as running safety seminars for primary business partners, and safety sensory workshops, which are education and training bodies for manufacturing and construction professionals, and we host safety conferences and construction reviews aimed to share safety consciousness for an accident-free project prior to starting any new large-scale construction jobs.
Safety training
Safety training program
Skills, awareness, and knowledge are required to work safely. Our employees take skills training courses taught by external organizations to improve their skills. They also participate in special training courses inside and outside the company to develop awareness and aquire knowledge. We provide special training in-house for operating cranes, as well as low voltage training and special training for grinding wheel handling etc.
Safety training facility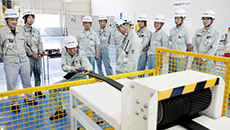 We train employees to understand risks, maintain awareness of safety, and act safe by providing them with simulated experiences of dangers at installation and manufacturing sites. We also extend training to our partners' employees in the same manner. We have renovated the course facilities in consideration of the pandemic, and now have equipment that allows employees to maintain social distance.
Simulation-based hazard training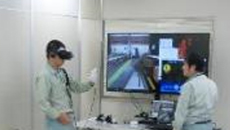 Simulation-based hazard training aims to raise the safety awareness of each employee, and make up for any lack of workplace experience, by simulating dangerous situations so that employees can viscerally experience them as a direct and real threat to their workplace safety. We have started using virtual reality (VR) to also visually recreate the dangerous processes leading to industrial accidents that were difficult to simulate using existing equipment. We are using auxiliary devices that enable employees to experience the simulated shock and sensations felt during an accident.
Safety training worldwide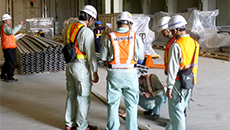 Daifuku implements training on safety management, methods, risk assessment, work safety standards, and so forth, for supervisors in installation departments at Group companies in the same manner as the training implemented in Japan, to improve the level of safety management.
Safety activities
Health and safety seminar for top management
To prevent workplace accidents, a high level of safety awareness in top management is important, and seminars are held every year to establish a safety oriented culture within supplier and Daifuku management. At these seminars, we are also aiming to raise awareness of safety through an award program that commends suppliers who actively carry out safety and health initiatives. The seminar was cancelled in fiscal 2020 due to the pandemic.
Global Safety Meeting
In line with the globalization of our business we hold a Global Safety Meeting every year to exchange safety related information throughout the Daifuku Group. At this meeting, we introduce safety-focused initiatives conducted at Group companies worldwide in order to deepen the understanding of differences in working environments and to raise the standard of safety across the Daifuku Group.
Improving health and safety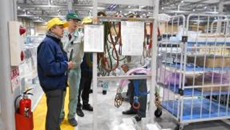 Daifuku has acquired ISO 45001 certification, an international standard, with the aim of improving our occupational health and safety performance. Using this system, Daifuku will establish a culture of safety by clarifying and continuously improving issues related to occupational health and safety throughout the organization, including not only management but also employees.
Joint safety patrol by three affiliates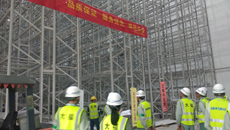 In May 2019, twelve executives from Daifuku (China) Co., Ltd., Daifuku (China) Manufacturing Co., Ltd., and Daifuku (China) Automation Co., Ltd. conducted a joint safety patrol of an automated warehouse installation at a customer site. The purpose of the patrol was to raise and highlight employee safety awareness.
Preventing traffic accidents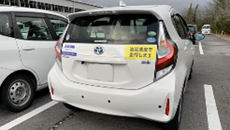 Daifuku is taking physical measures to eliminate traffic accidents in company cars. Specifically, the mandatory installation of autonomous emergency brakes (AEB), back monitors, rear corner sensors, and telematics drive recorders in our entire fleet of around 900 company cars. Additionally, managers are notified via mail sent by the drive recorder when dangerous driving occurs. This enables managers to be immediately updated on the driving situation, and prevents traffic accidents from becoming a common occurrence.
Spreading Understanding of Daily Health and Safety Standards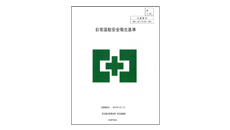 Daifuku believes that if each and every employee understands and acts correctly in their daily activities this will prevent occupational and traffic accidents, therefore, we created the Daily Health and Safety Standards. In order to spread understanding among all employees, e-learning was carried out three times last year, and the participation rate was 90%. For those who have not yet taken the course, we have distributed individual training materials and created an environment where all employees can become familiar with and practice health and safety.
Occupational Health and Safety Management System Certification
We promote certification at all production sites and primary locations in Japan, and all main production sites overseas of the ISO 45001 occupational health and safety international standards. In Japan, manufacturing is carried out at the ISO-certified mother plant in Shiga, and at eight certified locations overseas. The ISO-certification rate for our production sites is 36%.
| Certification standards | Production locations (consolidated) | Number of certified locations among total | Proportion of certified locations |
| --- | --- | --- | --- |
| ISO45001etc. | 25 | 9 | 36% |