Achieve diversity and inclusion
Relationship to SDGs
Goal
Target
No.
Initiative
5. Gender equality
5.1
End all forms of discrimination against all women and girls everywhere
5.5
Ensure women's full and effective participation and equal opportunities for leadership at all levels of decision-making in political, economic and public life
5.b
Enhance the use of enabling technology, in particular information and communications technology, to promote the empowerment of women
10. Reduced inequalities
10.2
By 2030, empower and promote the social, economic and political inclusion of all, irrespective of age, sex, disability, race, ethnicity, origin, religion or economic or other status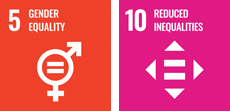 KPI
Initiative
Target
FY2021
FY2022
FY2023
Number of female employees in managerial positions
19 people
21 people
22 people
Employment rate of people with disabilities
2.3%
2.3%
2.3%
Rate male employees take paternity leave
5%
8%
10%
Promotion Framework
In response to the conditions of the countries and regions we primarily operate in, the Personnel and General Affairs Department primarily promotes diversity and inclusion with training, event planning and more. At our mother factory—the Shiga Site—we also educate and train employees with disabilities so that they can obtain skills specialized to their work in the factory.
Total number of employees by region (as of end of March 2020)
Employee data (Daifuku Co., Ltd.)
FY2017
FY2018
FY2019
Number of employees
Male
2,335
2,444
2,580
Female
297
328
348
Total
2,632
2,772
2,928
Average age
Male
42.2
42.0
41.4
Female
40.7
40.9
41.3
Total
42.0
41.8
41.4
Average years of service
Male
16.5
16.1
15.4
Female
15.0
14.6
14.6
Total
16.3
15.9
15.3
Action
Empowering women
KPI
We aim to be a company that enables all employees to participate actively, but a lack of balance in terms of the number of male and female employees and managerial staff is regarded as an issue that needs addressing. Therefore, in order to promote diversity, we have implemented a variety of measures to create an environment in which women can play an active role. Since 2016, we have held Female Leadership Training Sessions three times each year as an initiative to support the career development and active participation of female employees. Moreover, we hold Childcare Leave Management Seminars for managerial staff at workplaces with staff who are returning to work after childcare leave or who have shortened work hours.
We achieved our fiscal 2019 target of 17 female employees in managerial positions, and are making steady progress in the empowerment of women at Daifuku. As the overall number of both new graduates and mid-career employees is rising, we fell short of our target for the ratio of female employees among all recruits. Therefore, we will continue to strengthen our recruitment system, including adopting an approach that centers on new graduates.
| | FY2017 | FY2018 | FY2019 |
| --- | --- | --- | --- |
| Number of female employees in managerial positions | 11 | 15 | 17 |
*

The number of female employees in managerial positions is calculated based on the people who are the equivalent to section manager or higher.
Employment of persons with disabilities (as of June 1)
KPI
As of June 1, 2019, the rate of employment of persons with disabilities at Daifuku was 2.17%, which was short of the legally-stipulated employment rate. In August 2019, we set up a new work environment for employees with disabilities at the Work Happiness Farm in Kasugai City, Aichi Prefecture. We will continue with regular recruitment activities while collaborating with the Public Employment Security Office, Employment Security Association, schools, and other organizations. We will also focus our efforts on the employment of persons with disabilities, while taking into account the situation at each business site.
| | FY2017 | FY2018 | FY2019 |
| --- | --- | --- | --- |
| Employment rate | 1.86% | 1.80% | 2.17% |
Diversity training
Daifuku sends out a variety of information over our internal company network to employees both inside Japan and overseas. With the Sustainability Site, we invite external teachers in and hold training sessions for employees, and work to promote understanding through sharing of videos of these sessions. In February 2020, we held a session on diversity and inclusion, and we ensured all of our employees had a deeper understanding of equality of opportunity and how to think about diversity.
Moreover, to promote a deeper understanding of various disabilities, we held experience-based disability perception training with the aim to resolve challenges and prevent the occurrence of problems in the workplace.