Relationship to SDGs
Goal
Target
No.
Initiative
11. Sustainable cities and communities
11.b
By 2020, substantially increase the number of cities and human settlements adopting and implementing integrated policies and plans towards inclusion, resource efficiency, mitigation and adaptation to climate change, resilience to disasters, and develop and implement, in line with the Sendai Framework for Disaster Risk Reduction 2015–2030, holistic disaster risk management at all levels

KPI
Initiative
Target
FY2021
FY2022
FY2023
Implement countermeasures against major risks
Carry out regular risk assessments and risk response training
Promotion Framework
Under the direction of the CEO, we develop and promote risk management measures across the Daifuku Group. We organize the Risk Management Promotion Framework, which is comprised of the heads of each division based on the Risk Management Rules. Every year we conduct risk assessments across the Group, including at our non-Japan subsidiaries. The relevant divisions take measures to minimize and mitigate the impact of each identified risk as it occurs.
Action
We have established a BCP (Business Continuity Plan) for emergency situations. It places highest priority on human life, while also aiming to minimize damages to business assets and make the continuation and early recovery of business possible. Furthermore, we are expanding education, training and disaster prevention equipment related to disaster risk management, with the aim of heightening the effectiveness of the BCP. For our overseas group companies, in addition to our existing questionnaire surveys, we have implemented hearing surveys at each location to promote the ascertainment and sharing of the risks that can occur locally. Moving forward, we will further strengthen the BCP activities of the whole group and construct a corporate culture that is resilient in the face of emergencies.
BCP site basic survey (Daifuku affiliates and offices)
By periodically visiting all Daifuku Group sites worldwide, we ascertain the preparations needed for natural disaster risks, as well as exchanging and sharing information about risk related to compliance, information security and labor and health management.
BCP training and education
In order to heighten the risk awareness and understanding of BCP for each employee, we invite an external instructor every year to hold a BCP Seminar targeted at every staff member. In addition, for our position-specific training that includes new staff training, we continuously provide education to heighten risk awareness by implementing BCP training with content that matches the requirements of each person's role. Due to the increased risk that comes from globalized business development, we work towards securing the safety of international travelers through the appropriate transmission of local danger information, not just to our overseas subsidiaries but also to our expatriate personnel.
Countermeasures for disaster emergencies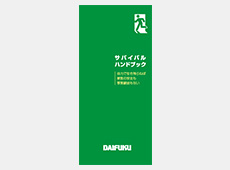 We distribute a Survival Handbook to every employee, which summarizes information about initial responses when an earthquake occurs, safety securement and evacuation procedures and safety verification contact methods towards family and the company. We are also strengthening our disaster emergency countermeasures by installing fixed antennas for satellite mobile phones at each regional branch, arranging safety helmets for expatriate staff and visitors, and replenishing our emergency stockpile.
COVID-19 measures
In accordance with the Basic Policies for Novel Coronavirus Disease Control by the Government of Japan, the Daifuku Group set up the COVID-19 Task Force headed by the CEO. Its priority is to limit the spread of and damage caused by infection both within and outside the company, and ensure the safety of all Daifuku Group and business partner employees. We will continue to follow government policies and action plans, and promptly determine and implement appropriate measures. The Task Force is currently assessing the situation at all Group companies and subsidiaries in Japan and overseas via online teleconferences and other methods.