Corporate Social Responsibility (CSR)
The Daifuku Group believes that the basic principles of CSR are to build
a symbiotic relationship with its stakeholders and to practice the Group's Corporate Policies Structure through its corporate activities.
Quality Initiative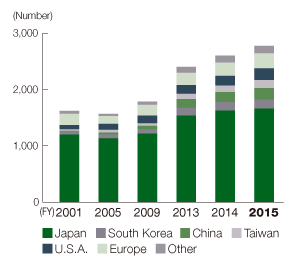 Daifuku has established its Rules on Inventions and Designs. Under these rules, the Company actively promotes patent applications and the acquisition of rights with a special focus on newly developed products. The progress of globalization has resulted in an increased number of patent applications made outside of Japan in recent years. Every year, Daifuku presents in-house innovation awards to patent-pending inventions awaiting patent registration. This award program recognizes outstanding products and technologies on a timely basis in accordance with internal and external evaluations.
During fiscal 2015, The Daifuku Innovation Awards Grand Prize for fiscal 2015 was given to three products: new rack cross-section, SPDR (Spider), and the display panel WASH TOUCH II for car wash machines. The Innovation Award was given to three additional products, for a total of 32 inventors.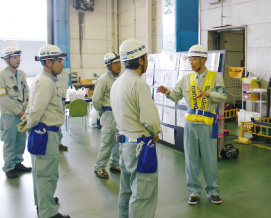 Workplace Safety
Based on the concept that safety is its ultimate priority, Daifuku has moved the Central Environment, Safety & Hygiene Committee under the direct control of the president and will strive to eradicate workplace accidents. With the aim of passing on a corporate culture that for years has focused on safety, identifying undiscovered risks, and securing intrinsic safety, Daifuku obtains several occupational safety and health management system certifications, such as OHSAS 18001 and the JISHA method, at its major sites. Also, the Company encourages these management systems across the Group worldwide.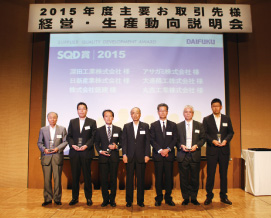 Relationships of Trust with Suppliers
In fiscal 2003, Daifuku established a superior supplier recognition program and launched the Supplier Quality Development (S.Q.D.) Award system to commend outstanding goods-related suppliers, which provide components (including fabrication), designing, and installations. In fiscal 2015, from among a total of 188 companies, the Company presented the S.Q.D. Award to six companies. Daifuku held a health and safety seminar for top management from 130 suppliers, calling for the cooperation of partners to realize zero accidents.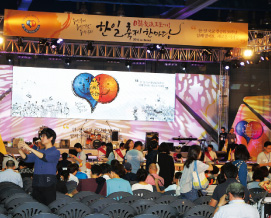 Relationship with Communities
Daifuku, as a good corporate citizen, aims to be a company that contributes to the development of both the economy and society by proactively conducting community-based activities. As part of its community contribution activities, Daifuku participates in cleanup activities, ties up with communities after natural disasters, and implements site tours for its factories and the Daifuku Mega Solar power plant within the Shiga Works. In fiscal 2015, Daifuku Korea Co., Ltd. and Clean Factomation, Inc. co-sponsored the Japan-Korea Festival 10th Anniversary in Seoul.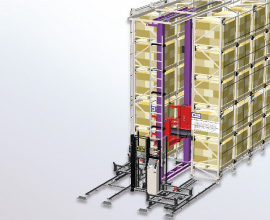 Environmental Initiatives
Since November 2012, Daifuku has been operating an in-house program to rate and certify the energy and environmental design of its own products. We rate every product manufactured within the Daifuku Group in terms of: energy saving, recyclable, lightweight, long life, resource saving, water saving, low noise, clean water preservation, and harmful substance(s) reduced. Products that meet a certain standard are certified as a Daifuku Eco-Product. During fiscal 2015, eight more products were added to the lineup of certified Daifuku Eco-Products, amounting to 29 certified products. In addition, centering on its core factory, Shiga Works, Daifuku takes steps to save energy and resources, introduce renewable energy, preserve biodiversity, reduce environmental impact, and build relationships with communities.
Fiscal 2015 Environmental Action Plans and Results
Daifuku sets forth its targets and action plans for global warming prevention, resource saving, biodiversity conservation, green procurement, Daifuku Eco-Products certification, CO2 reduction contribution, environmental education, and environmental management framework.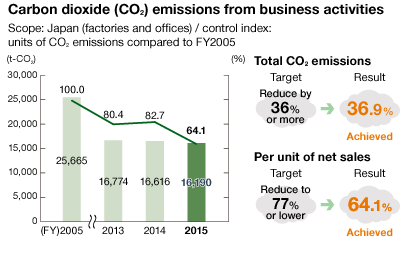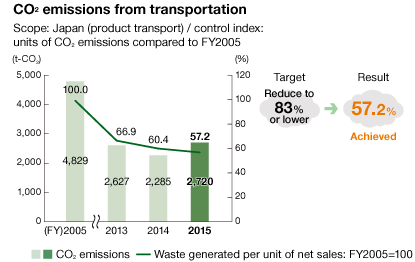 Corporate Social Responsibility (CSR) (PDF: 537 KB)